Archive
At a meeting held on Monday 27th April 1908, at 31 Essex St, Strand, London, it was proposed and unanimously carried by those present that Sir William Bull should take the chair. Sir William Bull then made a statement giving a 'short sketch on the position of a Knight Bachelor and how through the actions of the Walker Trustees the idea of a Society was suggested. It was therefore unanimously resolved to found and the society is hereby founded'.
Minutes of the first Council Meeting of the Society of Knights Bachelor Monday 27th April 1908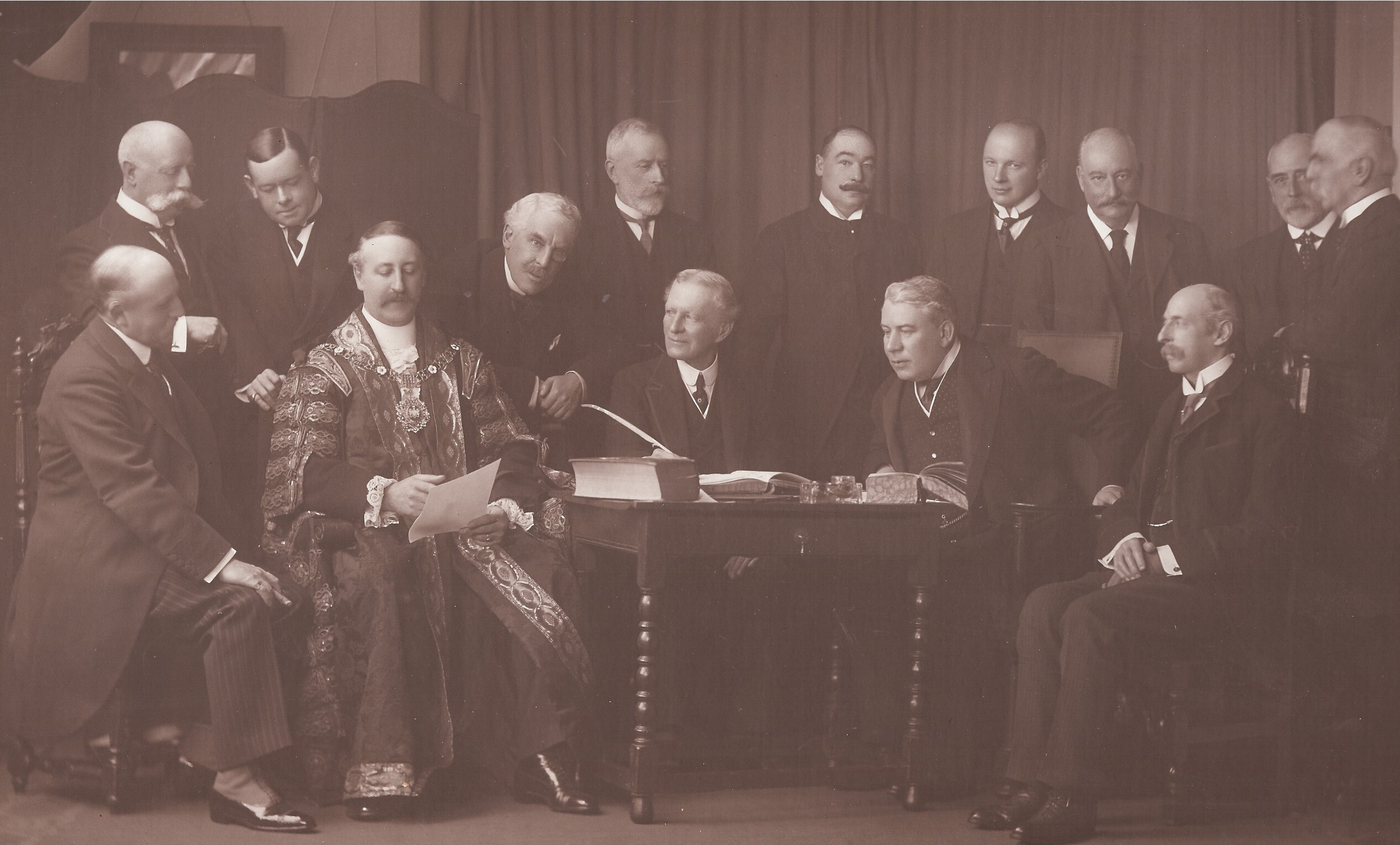 The Meeting of The Council of The Imperial Society of Knights Bachelor
27th February 1914
Back row, left-to-right: Sir Roper Parkinson, Sir Harry North, Sir Squire Bancroft, Sir Cecil Hertslet, Sir Ernest Flower, Mr Willoughby Bullock (Secretary), Sir William Crump, Sir Douglas Straight, Sir Melvill Beachcroft
Front row, left-to-right: Sir Harry Samuel, M.P., Sir Vansittart Bowater (Lord Mayor of London), Sir Boverton Redwood (Vice-Principal)), Sir William Bull, M.P. (Registrar), Sir Isidore Spielmann, C.M.G.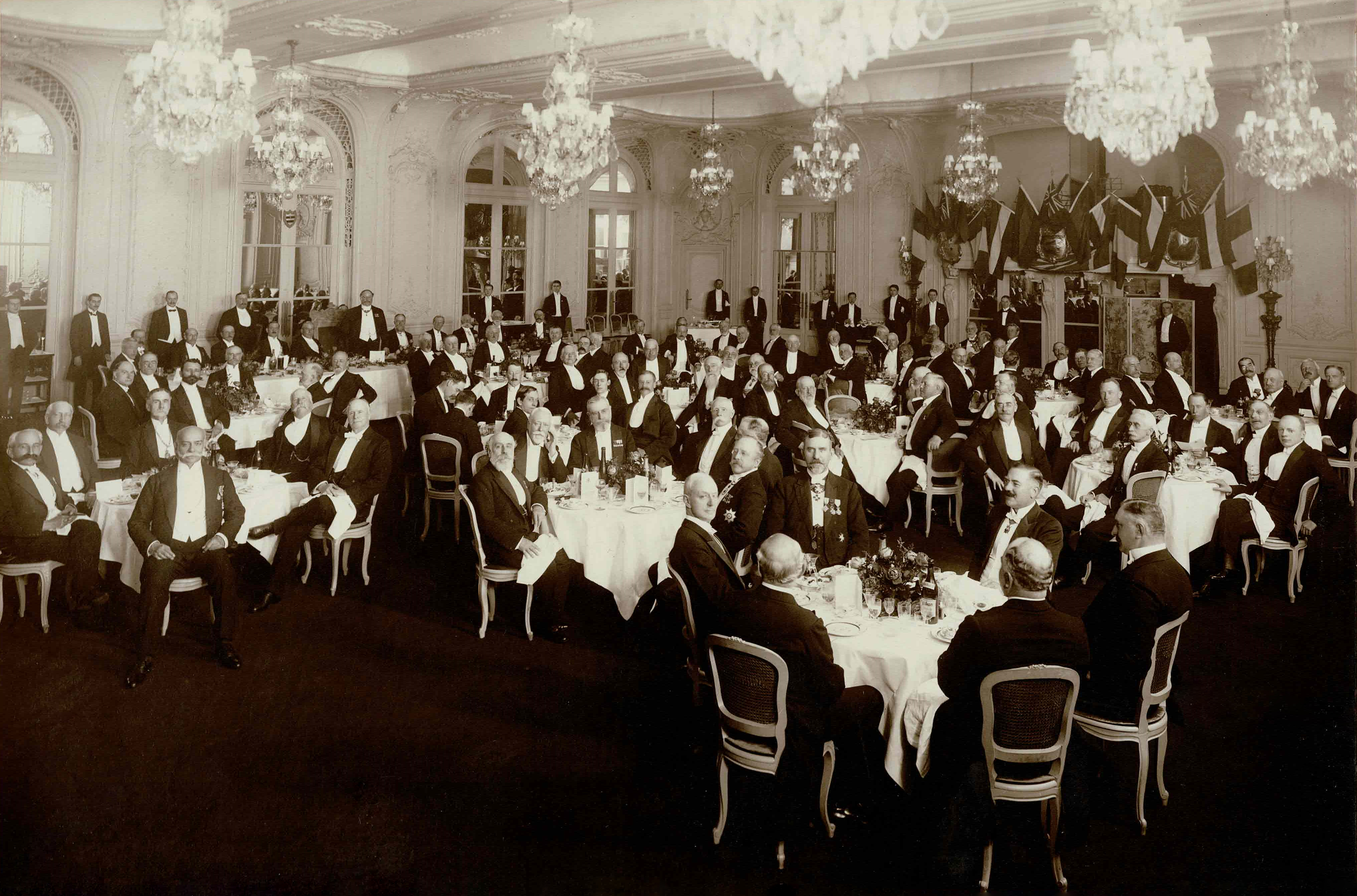 The Annual Dinner of the Society of Knights Bachelor
Savoy Hotel, London, 20th June 1911
The Knight President, Sir Henry Pellatt, Kt., C.V.O., in the Chair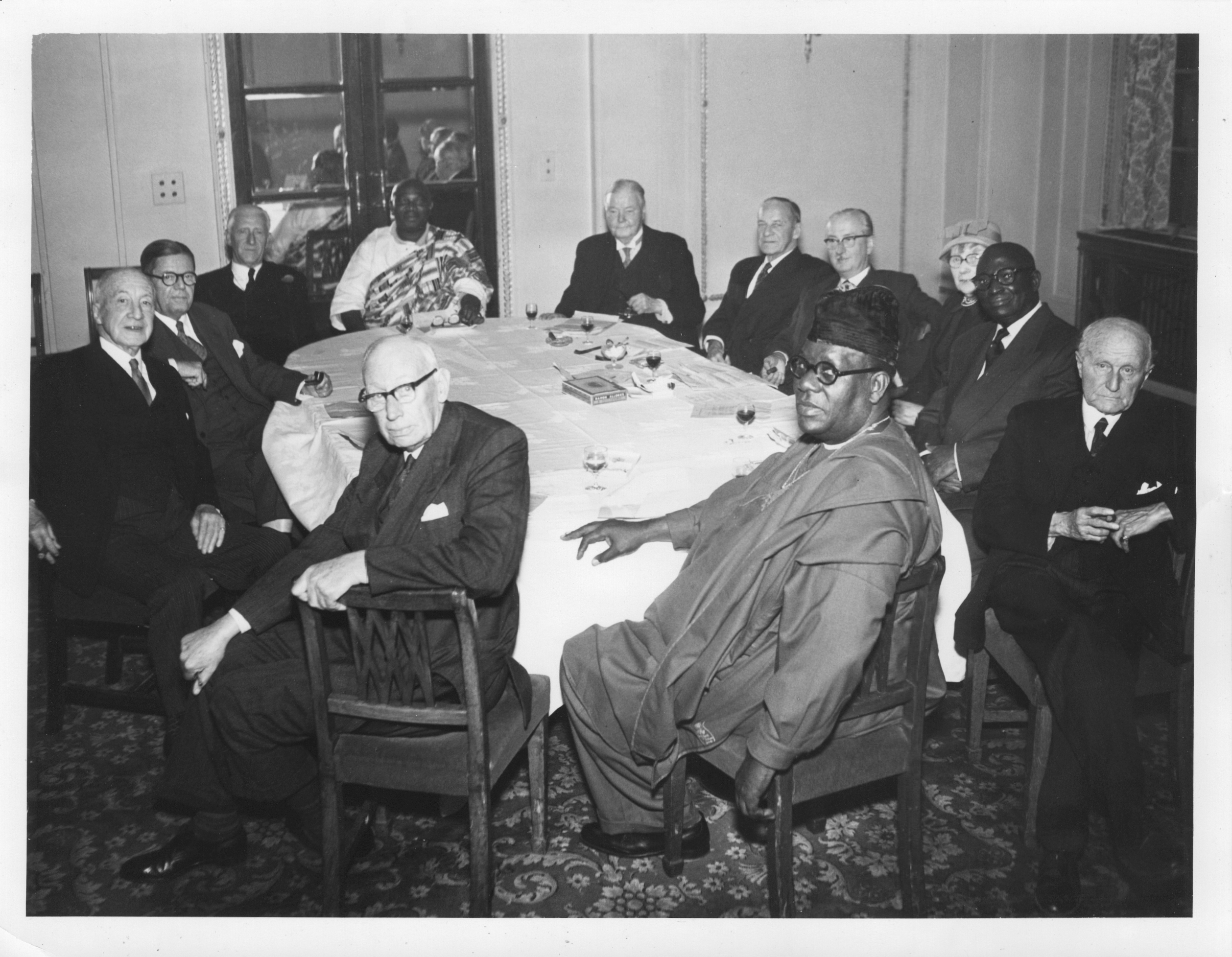 Council Luncheon & Meeting - Café Royal, 6th November 1958
Clockwise from top: Sir Taiku Dauku (Ghana), Sir Patrick Hannan (Joint Hon Treasurer), Brigadier Sir Frederick Carson (Canada), The Hon Sir George Bellew (Garter and Knight Principal), Miss E Blackwell (Clerk), Sir Samuel Manuwa (Nigeria), The Rt Hon Sir John Beaumont, Chief Sir Kojo Apaipomi (Nigeria), Sir John Nicholson, Sir Reginald Blair, The Hon Sir Archibald Cuke (Barbados), Sir John Weir Russell
Annual Service of Dedication, 15th July 1981
Back Row, left-to-right: Sir Eric Cheadle, Sir William Harris, Sir Roger Falk, Sir David Napley, Revd Arthur Brown, Sir John Tilney, Lt Col Colin Cole (Garter King of Arms), Lord Fraser of Kilmarnock
Front Row, left-to-right: Sir Arthur Bide, Sir Amar Maini, Sir Rex Niven, The Bishop of London (Rt Revd GA Ellison), Sir Gilbert Inglefield, Sir Arthur Driver, Sir John Howard, Sir Hannibal Scicluna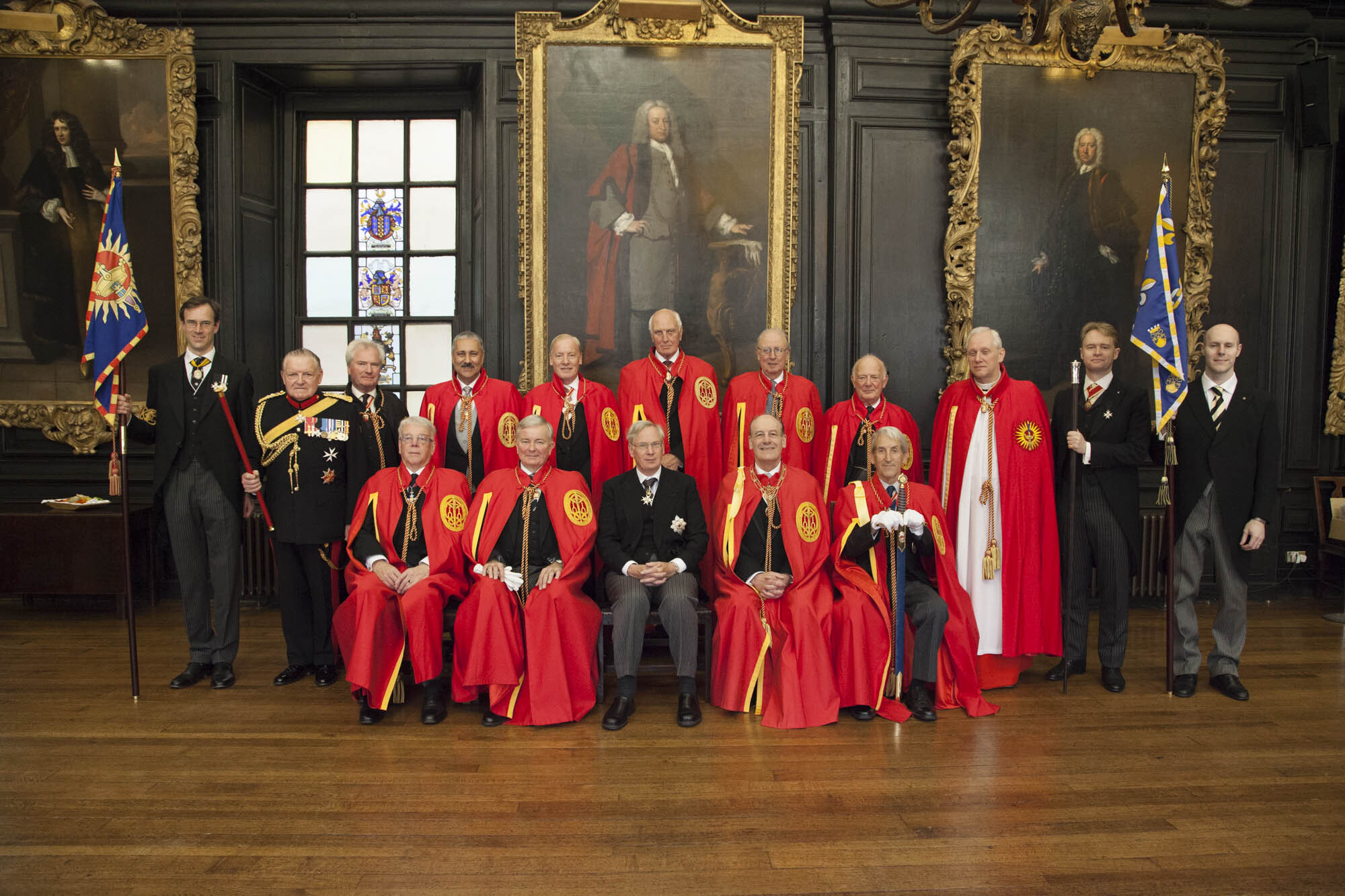 Apothecaries' Hall, following the Diamond Jubilee Service - Thursday 19th July 2012
Left-to-right: Sir Charles Hoare Bt (Esquire), Colonel Alan Roberts (Gentleman Usher), Colonel Simon Doughty (Clerk), Sir Pritpal Singh, Sir Michael Hirst, Lord Dear, Sir Barry Jackson, Sir Michael Craig-Cooper, The Reverend Professor Peter Galloway, Rupert Pearson (Chief Esquire), Dir Tom Balchin (Esquire)
Left-to-right: Sir Jeremy Elwes, Sir Gavyn Arthur (Registrar), HRH The Duke of Gloucester, KG, GCVO, The Rt Hon the Lord Lingfield (Knight President), Sir Colin Berry (Knight Principal)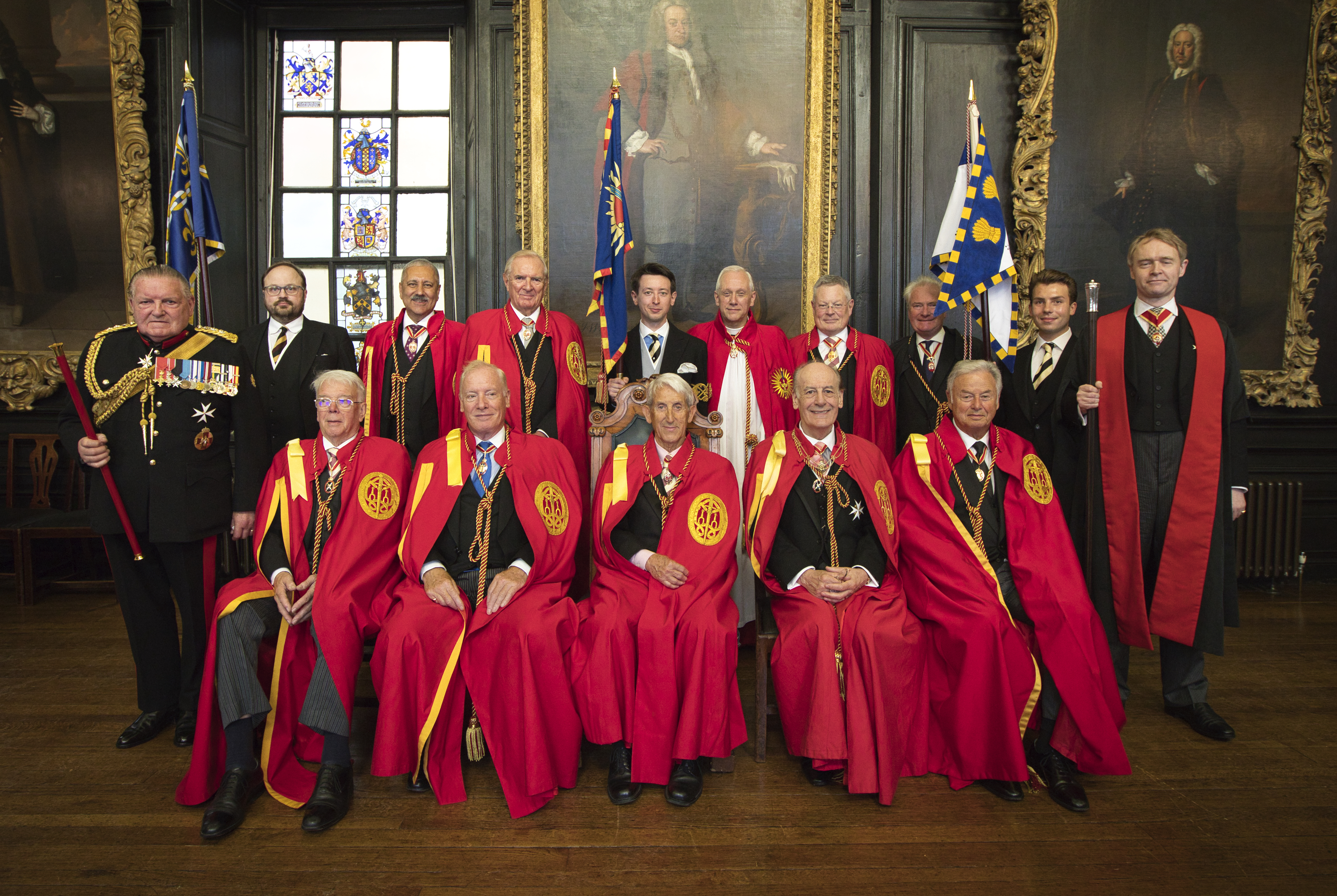 The Imperial Society of Knights Bachelor
Apothecaries' Hall, following the Annual Service - Thursday 18th July 2019
Standing. Left-to-right: Colonel Alan Roberts (Gentleman Usher), Alex Woolgar-Toms Esq (Esquire), Sir Pritpal Singh (Council Member), Sir Roger Fry (Council Member), Robert Wilde-Evans Esq (Esquire), The Reverend Canon Professor Peter Galloway (Provost), The Right Honourable Sir Gary Hickinbottom (Knight Principal-Designate), Colonel Simon Doughty (Clerk), Elliot Godman Esq (Esquire), Rupert Pearson Esq (Chief Esquire)
Sitting. Left-to-right: Sir Jeremy Elwes (Knight Vice-President), Sir Michael Hirst (Registrar), Professor Sir Colin Berry (Knight Principal), The Right Honourable the Lord Lingfield (Knight President), Sir Clive Thompson (Treasurer)