St Martin Divides his Cloak
This painting of St Martin of Tours was dedicated by The Bishop of London on Thursday 19th July 2018 and hangs over the altar in the Knights' Chapel in the Crypt of St Paul's Cathedral. The painting was commissioned by The Imperial Society of Knights Bachelor through the generosity of our members and particularly the Australian Knights. St Martin of Tours, who died in 397 AD, is the Patron Saint of the Imperial Society and a soldier who showed great charity to a man in winter by cutting his cloak in half and giving it to him. Martin later had a dream in which Christ told him that he had been clothed by Martin that day.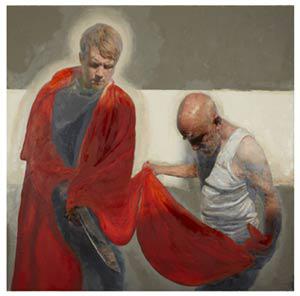 The artist is Hughie O'Donoghue who lives and works in London and County Mayo, Ireland. He was elected a member of the Royal Academy of Arts in 2009 and to Aosdána in 2013. He has been an artist-in-residence at the National Gallery, London and at St John's College, Oxford. He received an Honorary Doctorate from the National University of Ireland in 2005. His work has been exhibited widely in Britain and across the world.